Mainly for Women Trade Show – Feb 8, 2020
Some of the many Vendors present!
HEALTHY LIVING FAIR – Oct 20, 2019
October 2019 Potluck
WOW RETREAT
Fun, Bonding, Questions & Future
Healthy Living Fair/Oliver Harvest Hut
Volunteers from the Oliver Recreation Dept, Oliver Food Security and WOW canned tomatoes that had been donated to the Harvest Hut.  Herbs that were grown in the Oliver street pots this year were bagged and will be handed out together with a recipe and a jar of canned tomatoes at the Healthy Living Fair.
The 2019 Swinging Skirts Golf Tournament
Assisting Double O Quilters making Quilts of Valor for service men and women.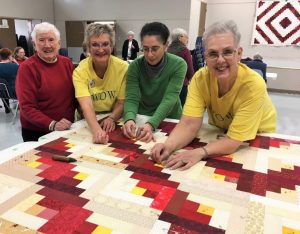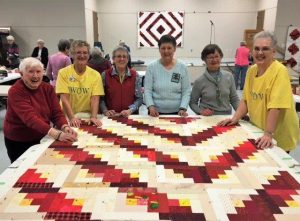 WOW 2018 CHRISTMAS SOCIAL  – Members and their silent supporters shared food, refreshments, laughter and great stories.
October 2018 Pot Luck
2018 Swinging Skirts Golf Tournament
THE BEGINNING
THE START
THE FUN
THE SPONSORS
THE FINALE
June 2018 Windup
The WOW final meeting and Windup was held on June 19th and hosted by Janet with Sally and her committee of Eileen, Barb and Judy handling all the food and refreshments.  It was a lovely evening to just relax and enjoy each other's company.  The swearing in of our executive was in order, along with welcoming our newest member.
 3rd Annual Presentation Tea
March 2018 Potluck
Mainly for Women Trade Show
25th Silver Anniversary Feb 2018
Some of the many Vendors present!
WOW Christmas Fund Raiser – Dec 2017
Oliver Sunshine Parade – Aug 18, 2017
SWINGING SKIRTS GOLF TOURNAMENT
June 2017 Meeting Plus Cider Tasting
2nd Annual Presentation Tea
                               Canada 150th Birthday Mosaic Tile Painting – June 2017
Spirit of Oliver Group Award – 2016