What a Day!   Oh what a Turnout!   What a Success!!!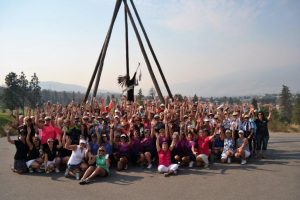 WOW's second Swinging Skirts Golf Tournament held on September 7th was a resounding SOLD OUT event.  Nk'Mip Desert Canyon Golf Course, Investor's Group and WOW once again co-sponsored this fun event.
With 120 ladies participating, there were activities on almost every hole, from marshmallow hits, hitting a ball into a water target, plinko, putting and more.  It was noted one golfer was from Nova Scotia and another one from Vancouver.  That is phenomenal!
All lady golfers each received a goody bag and a door prize.  A free massage was available with the event ending with a delicious meal.  Prizes were also handed out for golfing skills such as longest putt, longest drive, closest to the pin on second shot, etc.  There were also two Hole-In-One prizes offered.  Team skill prizes for low gross and low net were awarded in several handicap groupings and there were low gross prizes for a non-handicap group.
Thank you to the community for all your support and donations to help make this tournament a success.
This tournament was a charity event with WOW being the recipient of funds raised.  Funds will go to WOW's donation projects.
We are all looking forward to the third annual golf tournament next year.